---
Riverside Honda earns President's Award- 2008, 2009, 2010 and 2011
---
Riverside Volkswagen wins the 2006, 2008, 2014, and 2015 Wolfsburg Crest Club Award!
---
Riverside Mazda - Winner's Circle Dealership
Riverside Mazda Awarded Mazda's President's Club in 2013, 2014, 2015
---
Riverside Nissan earns Award of Excellence - 2006, 2012, 2013, 2014, 2015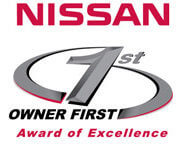 ---
How a revolution in quality takes shape...and pays off
Since its inception in Canada in 1983, Hyundai has been known for building affordable cars that offer great value. Equally important is our unwavering commitment to quality, and this commitment has been paying off with Hyundai winning award after award from consumers and critics alike for the quality of its vehicles. In fact, Hyundai now consistently ranks among the industry's top performing automakers in product quality.