Riverside Nissan earns Award of Excellence - 2006, 2012, 2013, 2014, 2015
Riverside Nissan awarded Nissan's Owner First Award of Excellence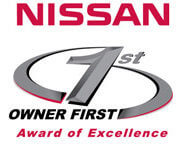 The Nissan Owner First Award of Excellence is the highest award presented by Nissan North America to their Dealers. This award recognizes Nissan's top Dealers from across the nation who were able to meet the highest standards of achievement. It recognizes those Dealerships that embody the philosophy and vision for the Nissan Owner First Award of Excellence. that is, to endeavor to provide their customers with an outstanding ownership experience, from the showroom through every aspect of the dealership. Basically, putting their owners first.
Every Nissan dealership participating is rated based on a variety of criteria including the Nissan's Owner First survey. Surveys are sent out to customers after the purchase of a new Nissan vehicle, or after having a service done on their current vehicle. Customers are Nissan's top priority, which is why Nissan North America uses customers input and feedback to reward those dealerships that meet these high standards.
Achieving this honor reinforces Riverside Nissan's commitment to providing excellent customer satisfaction and will serve as a lasting reminder that they are among Nissan's best.
Not all dealers are authorized to sell, service, or carry OEM Accessories for certain vehicles even though they are a dealer. We are an authorized Nissan Commercial Van dealer, Nissan GT-R dealer, and an authorized Nissan Leaf dealer.